On December 17, 2018, Mitsulift launched an all-new and exclusive elevator cabin design series by david/nicolas, a Beirut-based and internationally renowned design studio.
"D/N1 and D/N2 are two design options for an elevator's cabin interior, offering a delightful experience for the senses," stated Karim Abillama, Mitsulift CEO. "They are the beautiful outcome of unlimited creativity and freedom of movement, and they are the perfect complement to Mitsulift's vision of enhancing city living," he added.

The D/N1 model combines old and new elements to form subtle contrasts and proportions. It features sculpted wood, polished laminates, arched steel, diffused light and natural Travertino, all specific details making this cabin interior unique. In contrast, the D/N2 model offers a futuristic look into urban travel. Warm wood, lustrous steel, streams of dramatic light and a plush wool floor blend together to smoothly pleasure the senses with style and sleekness.

The new cabin designs are available at all Mitsulift branches and for all elevators sold by Mitsulift.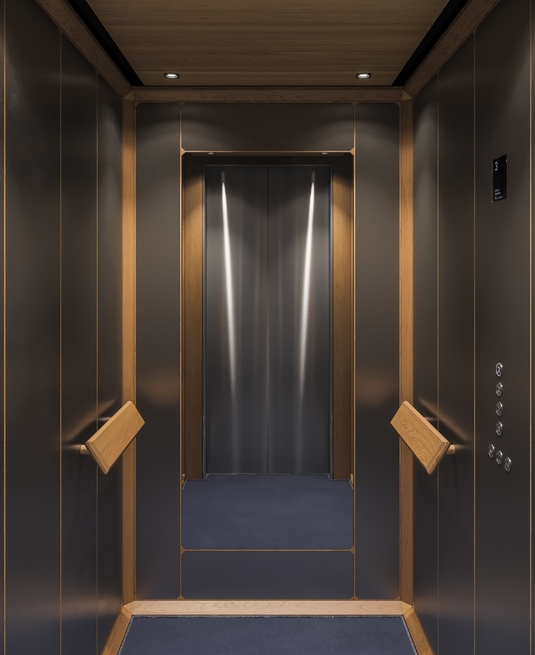 Mitsulift is a joint-venture with Mitsubishi Electric Corporation in Japan, specializing in the design, sales, installation and maintenance of elevators and escalators. The company is headquartered in Lebanon with operation in eight different countries.

David Raffoul and Nicolas Moussallem are award-winning Beirut-based designers. Their unique way of blending retro, contemporary and futuristic elements gives their work a timeless aesthetic that translates to a wide range of projects. They work on whatever captures their imagination, from designing their own lines of furniture, to collaborating with prominent international brands, to high end bespoke interiors. What every project has in common is attention to detail. Every aspect of their designs is meticulously thought-out, down to the last screw.

Download the brochure.